This Grand Paradiso area was originally the private hunting reserve of the ruling "House of Savoy". In 1856 King Vittorio Emmanuel 2 declared part of the hunting grounds as a protected area, so helping to save the ibex which is such an important animal for the park, and for Italians. About 3,000 of these powerful mountain goats now live in the Park.

Today the park covers 173,000 acres of mountains, lakes, forests and meadows. Because it was originally a hunting reserve it is the old 450 miles of trails and mule tracks that form the backbone of the paths we are able to use today for our hiking and walking holiday.
The walking is graded "B+" and we will always introduce minor variations that take full account of your own wishes and personal objectives. We'll walk for an average of 5-6 hours a day with height gains of up to 1,000m (3,300ft). But we will also (included in the price) make maximum use of lift systems, where they exist, to avoid those long descents which can be hard on the knees.

-------------------------------------------------------------------
Food
We provide (and you carry !) wonderful big lunches each day:
a range of local meats and cheese, trail bars, fruit and nuts.
Vegetarians are welcome, just let us know in advance.
Hotel breakfast
is a continental breakfast and we'll eat out at night in different local restaurants to sample the wide range of both local and national Italian cuisine, and the wine.
your detailed itinerary
Day 1
Arrive midday at Geneva Airport, Switzerland. Transfer to your hotel (3hrs). Sightseeing in this wonderful mountain village followed by a visit to Valnontey botanical garden. An evening briefing with wine and traditional food.
Day 2

Bardoney:

From the village of Lillaz at 1,617m (5,305ft) we hike up through larch forest and rhododendrons to the alpine pasture of Bardoney (2,232m, 7,323ft) and return by Lake di Loie (2,354m, 7,723ft). We'll use our hotel's

sauna

and

swimming pool

to ease those stiff muscles at the end of the first day's hiking ! (6hrs walking)
Day 3

The Col Tsa-Sèche:

From the road-head at Gimillan (1,787m, 5,863ft) we hike up to the Col Tsa-Sèche (2,820m, 9,252ft) with stunning views of the Swiss and Italian Alps, across to the Matterhorn and Monta Rosa. Descend to Epinel (7hrs walking).
Day 4

Montzeuc: Walk from our hotel at 1,534m (5,032ft) to the top of Montzeuc (2,333m, 7,654ft) and a great view of all the Gran Paradiso mountains. We return by cable car (6 hrs walking).

or a "rest day" with shopping and icecream in the old Roman city of Aosta, white-water rafting (afternoon) and wine tasting in the local vineyards.

Day 5

The Vittorio Sella hut:

Our 2-day expedition starts from our hotel. We walk up through meadows to the Vittorio Sella mountain hut (2,584m, 8,478ft) to eat a delicious mountain meal, and spend the night . From the hut, during our afternoon stroll, we'll photograph Marmots, Ibex and (perhaps) Chamois. (3 hrs up)
Day 6

The Valnontey valley:

From the hut we walk past lakes and traverse past Mt Erban (3,004m, 9,855ft) on a stunning high-level traverse of the whole Valnontey valley. Then we descend to our hotel for hot showers and a celebratory meal (6hrs walking).
Day 7
Last minute shopping before the late morning transfer to Geneva airport.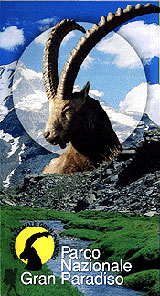 http://www.parks.it

for background information on this wonderful backpacking region of Italy.
This wild remote region is in the north-west corner of Italy, to the east of the busier and better-known French Alps.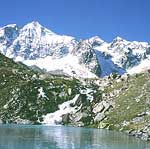 It is easily accessible. The main motorway from Turin Airport passes Aosta on its way to the Mt Blanc tunnel and Chamonix, France.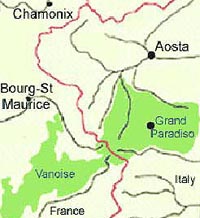 The National Parks of the Gran Paradiso (in Italy) and the Vanoise (in France)

are linked, providing a huge wildlife paradise.